The
Guardian Public Sector Summit
comes at exactly the time that the phony war on cuts has ended and now something must be done. Entitled New models, new relationships and a new era and sponsored by
PWC
,
BT
,
CSC
&
HaCRIC
it was likely to be a rough and tumble of argument, emotion, heated discussion and exploration expertly chaired by
David Brindle of the Guardian.
The Conference was kicked off with a keynote by the UK's Deputy Prime M The Right Honourable
Nick Clegg
MP who asked the delegates
"not to criticise the boss but to become the boss."
There were a wide range of views from 'The Virtual Council' by
Suffolk County Council
to the use of technology to deliver better health services.. The Social Enterprise movement also spearheaded the third sector debate.
The other keynote Over two days the speakers used case examples to argue and explore the possible futures for the Public Sector.
Pentacle's
Eddie Obeng
delivered the closing keynote. He began by declaring that "I live in the future so that you don't have to...yet with a backdrop of Pentacle's face to face learning approaches and and a
video
of the Pentacle
QUBE
- the 3D immersive
learning environment
.
more...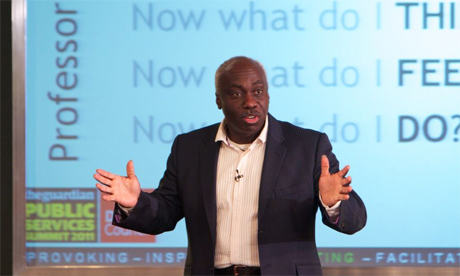 He introduced the audience to The New World model and used this to get past the 'old world ' either or thinking to help the participants consider wider options. He then helped delegates to understand how new challenges needed new models and new models needed new words. Eddie explained how having been grounded as a pilot because his weight was too much for his height he had decided on a programme of cuts himself and had decided to sacrifice his left arm before re framing the challenge as 'delivering differently a better outcome'. He got the delegates to agree to banish the word 'cuts' from their vocabulary. He told them how R.A.B.B.I.T.sTM could enable innovation illustrating his stories with Case studies from the
Design Council's
work where as a rule in the Public Services by design programme every pound spent returns 26!